Cedar Hill Stormwater Project
Project Completion Update
Construction and repairs for the Cedar Hill storm water project were completed on Monday, December 22. An asphalt overlay was placed across Cedar Hill Drive where the asphalt was cut to install a new cross-pipe. The Town intends to repave a larger section of this road in early spring when temperatures are more appropriate for laying asphalt. The project was a success, and we are pleased to have the storm water and sink hole issues in this area resolved.
December 14th Update
The construction company has finalized the replacement of the pipe adjacent to Cedar Hill Drive and is now working on the cross-pipe replacement under the road. This will result in a portion of Cedar Hill Road, between Hemlock Road and Cedar Chine, being closed during the day on Tuesday, December 15th. The road should be re-opened later this afternoon.
Project Scope and Background
Work has begun on the Town's first stormwater project identified in the stormwater master plan. The first project includes the replacement of a failed corrugated metal pipe adjacent to Cedar Hill Road. This pipe was installed in 2000 and, as seen in the photo below, was completely deteriorated on the bottom. This deterioration allowed water to collect around the pipe and resulted in the sink hole that occurred in this storm drainage area. The goal of this project is to replace the failed pipe and older cross-pipe, thereby eliminating the issues causing the sink hole. The result will be newly installed pipe, constructed of better materials, that will be more durable and resilient for the long term success of this drainage area.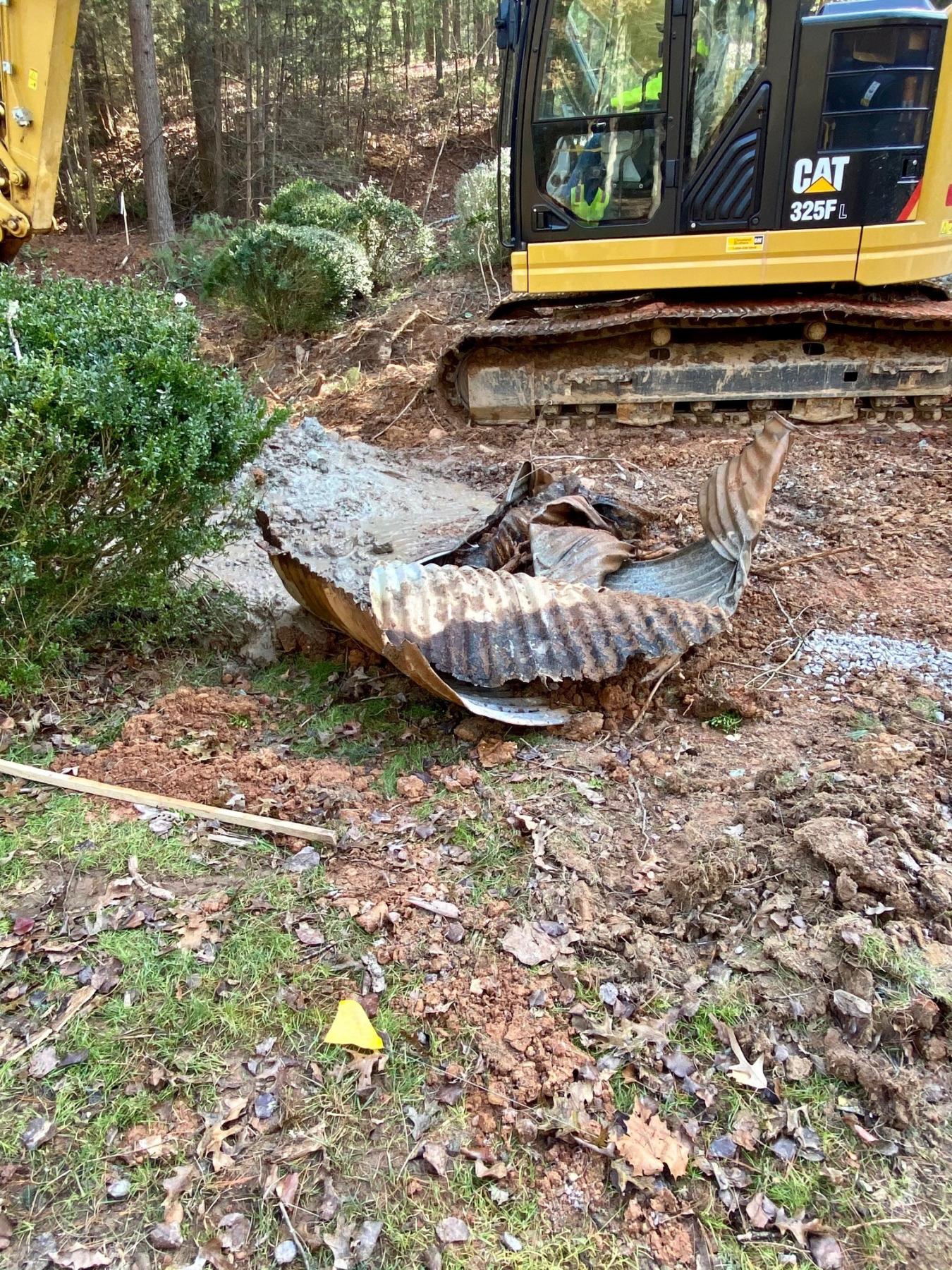 The project replaces the 36" corrugated metal pipe (CMP) adjacent to Cedar Hill Drive with 107 linear feet of a 36" high density polyethylene pipe (HDPE). A 24" CMP underneath Cedar Hill Drive will also be removed and replaced with a 24" reinforced concrete pipe (RCP) that ties into a junction box. At this junction box, the contractor is installing a 34 linear feet of 42" HDPE that will exit onto a rip rap dissipation basin.
An existing drainage easement was coupled with two easements from adjacent property owners to provide adequate space for the pipe installation. The project was approved by the Board of Commissioners and awarded to Hyatt Pipeline, LLC at a cost not to exceed $150,000 during the October 2020 meeting. The project began this Monday, December 7th, and should be completed within the next two to three weeks. A road closure for Cedar Hill Road will occur once work begins to replace the CMP under the road. Residents in the Cedar Hill area will receive a CodeRED notification informing them of this road closure and the detour route.
Anyone with additional questions, concerns, or comments regarding this project should contact Public Works Director Harry Buckner, P.E. at (828) 274-3919.